All about tickets – why movie giants and Telugu theaters are at odds with Jagan Reddy's government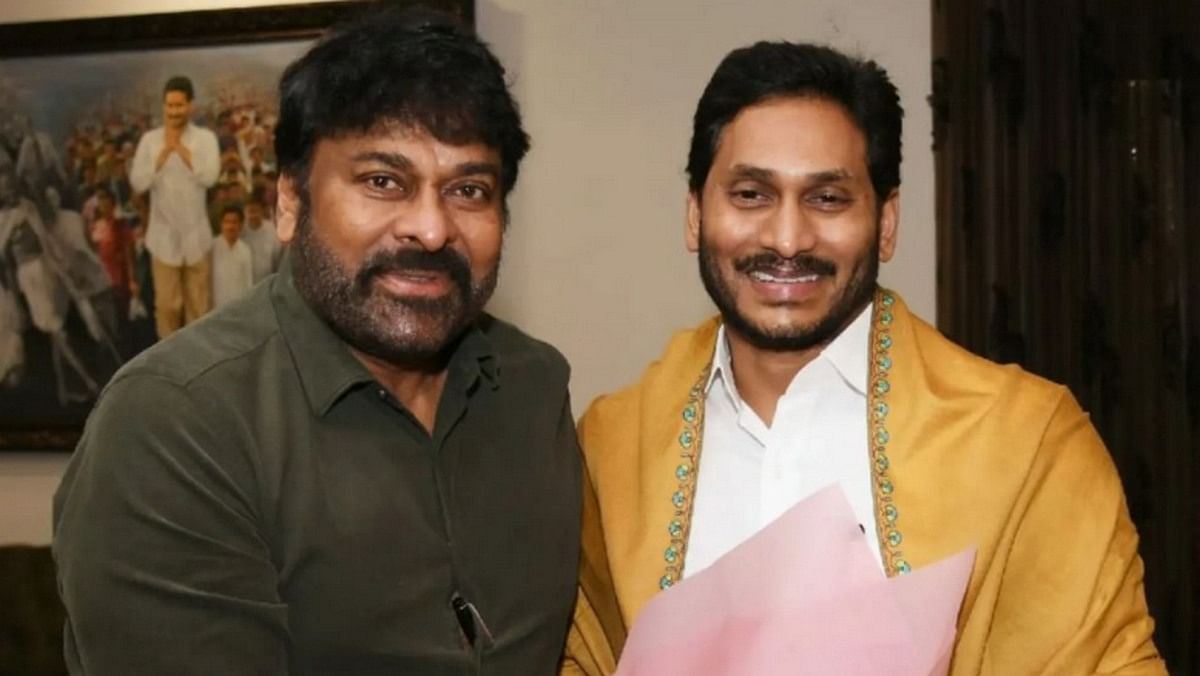 Hyderabad: A real fight sequence has been playing out for several weeks between sections of the film industry and the Andhra Pradesh government over a decision to lower cinema ticket prices. However, a rapprochement finally seems to be taking shape.
Director Ram Gopal Varma met with Cinematography Minister Perni Venkataramaiah, also known as Perni Nani, on Monday to find an "amicable solution" to a Twitter spat, while actor Chiranjeevi encounter Chief Minister YS Jagan Mohan Reddy on Thursday, and said he had high hopes for a new government order.
Chiranjeevi urged members of the film fraternity to "show restraint" until a government-appointed committee comes up with revised proposals on price cuts.
The fracas started in April 2021 when the Andhra Pradesh government issued an order fixing the prices of cinemas in municipal corporation towns, municipalities, gram panchayats, etc.
The order also specified flat fares in economy, luxury and premium classes for multiplexes, as well as AC and non-AC cinemas.
For example, in municipal areas, a multiplex may only charge Rs 75-200 for a ticket, while the price range for AC and non-AC theater tickets is Rs 20-100. In gram panchayat areas , the government has ordered that ticket prices not exceed 5 rupees for economy class tickets in non-AC theatres.
A price cap was also imposed on refreshments sold in theaters, and owners were told it was mandatory to provide drinking water and bathrooms. Additionally, the government has said theater owners should make arrangements for online ticket purchases.
These measures, according to the government, were taken for the benefit of "the common man".
There was a lot of backlash, however, with some in the film industry speaking out against the move and hundreds of theater owners protesting. Last month, many theaters across the state – One out of five, by some estimates – have closed shop, saying it was no longer profitable for them to do business, especially in the wake of pandemic-related losses.
More than 200 theater owners have also filed petitions in the Andhra Pradesh High Court challenging the order. Last month, the court ordered the government to form a committee to deliberate on the matter, but discussions held this week have been inconclusive. The committee will probably meet next week.
---
Read also : This is how Jagan Reddy became a political juggernaut in Andhra
---
The battle so far
In a January 5 tweet, director Ram Gopal Varma directly challenged Perni Nani, telling her that the government could cap commodity prices in the event of a "shortage", but movies did not fall into that category.
Dear Honorable Minister of Cinematography @perni_nani sir, i understand that the government can step in and set a price below or above the equilibrium when there is a severe shortage of an essential product like wheat, rice, kerosene, etc. But how does this apply to movies sir?

— Ram Gopal Varma (@RGVzoomin) January 4, 2022
Nani gave a scathing retort, "What kind of economics tells us to sell an Rs 100 ticket for Rs 1,000 or 2,000? What law tells us that? And what is this market mechanism called? Is it demand and supply, or the black market? »
గౌరవనీయులైన @RGVzoomin గారూ…
మీ ట్వీట్లు చూశాను. నాకు ఉన్న సందేహాన్ని తెలియపరుస్తున్నాను. రూ .100 నుటికెట ను .1000 కి, 2000 కికికిముకోవచముకోవచచని ఏబేసికఎకనమికఎకనమికఎకనమికస చెపబేసికపాయపాయ? ఏ చట్టం చెప్పింది? దీన్ని ఏ మార్కెట్ మెకానిజం? డిమాండ్ & సప్లై అంటారా? లేక బ్లాక్?

— Perni Nani (@perni_nani) January 5, 2022
In Andhra Pradesh, ticket prices, especially in single screen theaters, usually went up to Rs 1,000 and sometimes even double that on the first day of a super star's movie release.
Cinema owners argue, however, that they should be allowed to set prices to break even since they have to compete with multiplexes and provide equivalent services, which has increased costs.
In September, actor-turned-politician Pawan Kalyan, who leads the opposition Jana Sena party, castigated to the ruling YSR Congress party and criticized the decision to regulate ticket prices. Her outburst came after the government canceled her film's 'benefit shows' Vakeel Saab in April.
As many as 225 theater owners have filed petitions with the High Court expressing their dissatisfaction with the order. On December 14, the court canceled the government decree (GO), but following an appeal clarified that the GO still applied to all theaters except petitioners.
The case was made even more difficult by government raids that resulted in the closure of 83 theaters for allegedly violating fire safety standards and other rules. Theater owners, however, alleged the government's actions were vindictive. The theaters in question have now been permit to reopen.
Vijay Gopal, the founder of the NGO Forum Against Corruption, told ThePrint that while there is a need to regulate the cost of tickets, the government's new price brackets are "unreasonable".
"Some ticket prices are lower than the bottle of water that the same theater sells. The consumer expenditure index has not gone down. Cutting prices makes sense if everything becomes cheaper. The government must take into account consumer price index (CPI) at urban, semi-urban and rural levels," Gopal said, adding that the government must also consider separate bands for different cities. "One multiplex in Hyderabad and one in a small city ​​cannot have the same price," he said.
What does the law say, and is the government hitting the right targets?
the Andhra Pradesh Cinemas (Regulation) Act 1955, allows the state government to set a limit for the price of tickets in theaters, as well as other provisions. This law also specifically mentions that no shows should take place before 8:30 a.m. and after midnight, but many theaters hold "benefit shows" at odd hours.
According to Gopal, who also runs an online ticketing platform, it is high time the government interfered in arbitrary price hikes in cinemas. These increases, he alleged, are not made unilaterally by cinemas but are heavily influenced by film producers and distributors.
"I appreciate the political will of the government thinking of the common man, but the root cause of this rise in ticket prices in the market is the producers and distributors who have a great deal of control over the theatres," said Gopal.
"Theatre managements don't make money from these ticket prices. Their source of income is the rent that a particular distributor/producer pays to the theater while the film is in theaters. Their other source of income is the refreshments sold. So why are they raising prices then? It's the producers who are forcing them to do it," he alleged, adding that if movie theater owners don't comply, the producers simply won't allow a release at that establishment.
Gopal further alleged that the top producers hold the monopoly of the theaters in the state and that the state government should ensure that no individual or his affiliates/subsidiaries own or lease more than 10% of the theaters in the state. the state.
"The reason filmmakers want such exorbitant ticket prices is that they want to reap profits within the first 48 hours of the release of their big-budget films. Once a review is released, especially in the age of social media, it's hard to sustain that crowd for long," Gopal said.
Notably, unlike Andhra Pradesh, the Telangana government last month permit cinema owners to raise prices up to Rs 300 and also collect GST and maintenance fees, following an appeal from film producers.
(Editing by Asavari Singh)
---
Read also : Forget Netflix's Sex Education. A filmmaker taught a new way to the young people of the Telangana tribe
---