Documentary film festival urges students to get out – The Vermont Cynic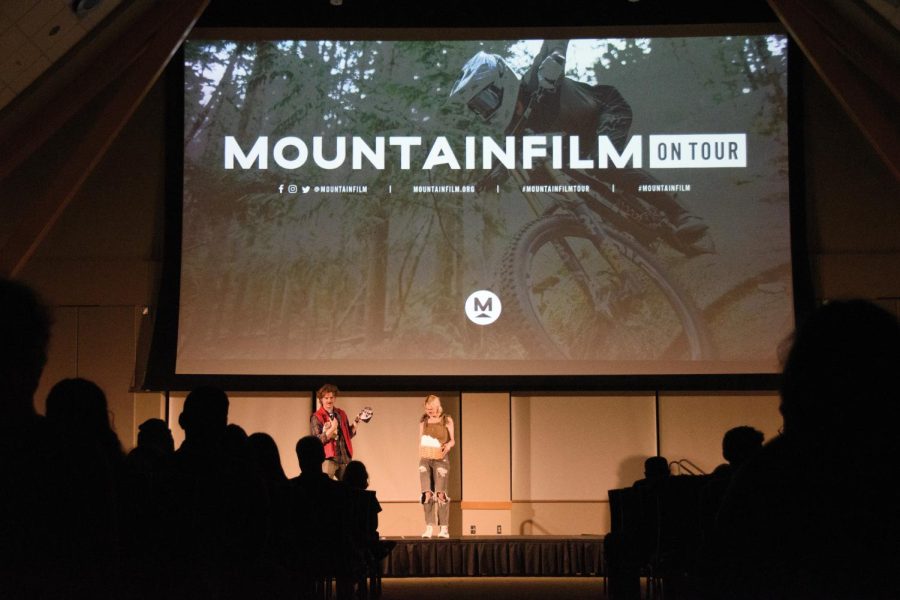 The film brought examples of the resilient human spirit to the Davis Center to show student surfers, changemakers and interested members of the community that the outdoors belongs to everyone.
UVM Outing Club hosted Mountainfilm on Tour in the Grand Maple Ballroom on November 4, with tickets selling for $15 each for general audiences and $12 for students. The show began at 7 p.m. and featured eight documentary films about environmental adventure and social justice, each lasting three to 30 minutes.
Mountainfilm is a documentary film festival held in Telluride, Colorado each Memorial Day weekend. Communities around the world can pay to host films from a given year's festival anytime between August and April, according to the Mountainfilm website.
The films were screened sequentially, amounting to a two-hour showcase of outdoor experiences with a 15-minute intermission halfway through the program.
The movies ranged from "Bacon n' Laces," which follows a blind single dad who runs a restaurant in New York City and has a passion for sneakers, to "Breaking Trail," which documents the first woman and LGBTQ+ person of color to embark on on Wisconsin's 1,200 mile Ice Age Trail.
"Trustfall" features the partnership of Espen Fadnes and Amber Forte, a pair of wingsuit pilots in Norway. Freshman Keira Zayas said she was shocked by how calm the athletes were before jumping off a mountain.
"It was the fact that they were able to get up in the morning like every other day, climb a mountain, and free fall," Zayas said. "I would panic like, 'oh my god, the ground is getting closer,' but they were just spinning in the air."
Freshman Marielle Horstmann said "Trustfall" was one of her favorite films shown at the festival.
"It was cool that they were in a relationship but also jumping off cliffs together," Horstmann said. "I've never seen anything like it before. It made me want to BASE jump.
Sophomore Hans Potter, treasurer of the Outing Club, spoke about how Mountainfilm can inspire students to connect with their surroundings.
"These films show many diverse perspectives — from people with disabilities to people from different cultures and places — all outdoors," Potter said. "One of the most important things for the Outing Club is to show that anyone can get outside, regardless of grade, age or ability."
Money from ticket sales for the annual event goes to fund outdoor programs at UVM so that more students have access to outdoor experiences, Potter said.
"We do our best to get everyone out but we are limited by the number of trips we can make only depending on how many vans we can get and how much money the club has. , did he declare. "Mountainfilm is one of the Outing Club's biggest fundraisers."
These funds help bring members out of the club, which people benefit from for different reasons, Potter said.
"Personally, I find peace on the outside," he said. "But other people may like the thrill of skiing, or they like climbing, or they just relax. It really depends on each person. »
UVM's outdoor and environmental organizations like Women in Forestry and Eco-Reps, as well as nonprofits like the Intervale Center, alongside local businesses including Patagonia and Outdoor Gear Exchange, have all deposited before the show and during intermission.
Junior Aly Dillon, an agent for Women in Forestry, which organizes walks in the woods for non-binary women and students, expressed her gratitude for being able to use the Mountainfilm event to raise awareness of the new club.
It's important to let people know that there is a community and safe space for women and non-binary people, Dillon said.
Eco-representative Alissa Frame, a junior, said the event was helpful in raising awareness of sustainable transport options for the upcoming break.
"It's helpful for students to know how to get around Burlington in general, and it's a timely event for planning the Thanksgiving vacation," she said. "We try to promote carpooling.
Daylight hours are decreasing, temperatures are expected to drop, and Green Mountain State is gearing up to step outside this winter. Mountainfilm on Tour proves that everyone has access to outdoor adventure – just open the door, no expertise needed.