Donation to the UA Smith Family Performing Arts Center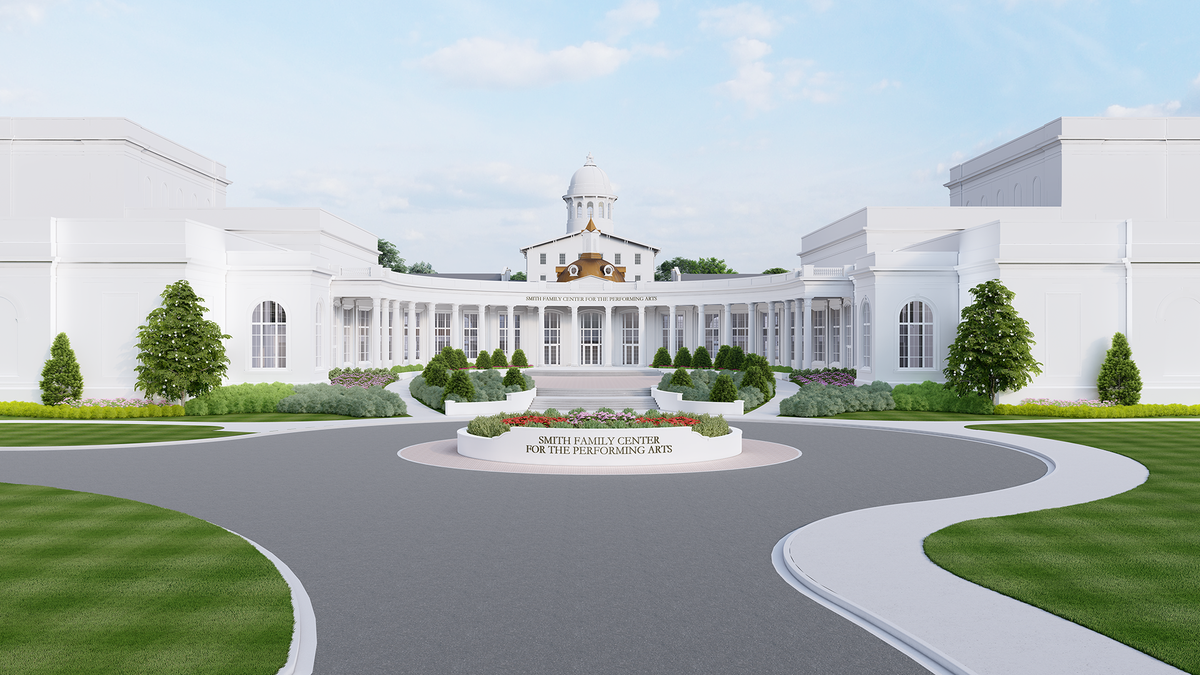 The University of Alabama announced Friday a landmark charitable donation for a new performing arts center on campus. The university said it recently received a $20 million donation as part of its "Rising Tide" fundraising campaign, which has now topped $1 billion. It is the biggest gift to an academic institution in AU history and was made in memory of Mark Smith, a native of Alabama and co-founder of global telecommunications company ADTRAN. Smith's son, Clay, made the gift alongside his wife, Cameron, and mother, Linda. "We knew, just by looking at the Bryce property and the University's plans for it, that we had to be collectively involved as a family," Clay Smith said in a statement shared by UA. "It's a place that will foster artistic expression for students and facilitate the acquisition of the skills they need to launch a career in the performing arts." See renders of the new center in the video above. Watch UA's full announcement at the bottom of this story or on Facebook here. ABOUT THE CENTER Here is how the university describes the new Smith Family Center for the Performing Arts: "The main hospital building is being renovated to include the university's visitor center, reception area and offices and associated administrative spaces.The building will also house faculty offices and rehearsal space for theater and dance, as well as museums dedicated to both the history of the university and the history of the mental health in Alabama, connecting to the restored Bryce Main, will be the centerpiece of this vibrant new campus core and will ensure our guests experience the highest level of performance in a setting of unparalleled beauty." The powerful combination of rooms world-class performing arts showcasing the exceptional talents of our students in the historic and pastoral setting of the Bryce Property ensures that the performing arts A University Center will be a renowned public space for the campus community as well as for visitors. The Performing Arts Academic Center will become one of the most iconic and visited buildings on campus. -kind installation."—AU ANNOUNCEMENT—
TUSCALOOSA, Alabama—
The University of Alabama on Friday announced a historic charitable donation for a new performing arts center on campus.
The university said it recently received a $20 million donation as part of its "Rising Tide" fundraising campaign, which has now topped $1 billion. It is the largest donation to an academic institution in AU history and was made in memory of Mark Smith, a native of Alabama and co-founder of global telecommunications company ADTRAN.
Smith's son, Clay, made the gift alongside his wife, Cameron, and mother, Linda.
"We knew, just looking at the Bryce property and the University's plans for it, that we had to be collectively involved as a family," Clay Smith said in a statement shared by UA. "It's a place that will foster artistic expression for students and facilitate the acquisition of the skills they need to launch a career in the performing arts."
See renders of the new center in the video above. Watch UA's full announcement at the bottom of this story or on Facebook here.
ABOUT THE CENTER
Here's how the university describes the new Smith Family Center for the Performing Arts:
"The main hospital building is being renovated to include the University's visitor center, reception area and associated offices and administrative spaces. The building will also house faculty offices and rehearsal space for theater and dance, as well as museums devoted to both the history of the University and the history of mental health in Alabama.
"The new Performing Arts Academic Center, which will be connected to the restored Bryce Main, will be the centerpiece of this vibrant new campus core and will ensure our guests experience the highest level of performance in a setting of unparalleled beauty. .
"The powerful combination of world-class performance venues showcasing the exceptional talents of our students within the historic and pastoral setting of the Bryce Property ensures that the Performing Arts Academic Center will be a renowned public space for the campus community as well as for visitors. The Performing Arts Academic Center will become one of the most iconic and visited buildings on campus.
—
AU ANNOUNCEMENT
This content is imported from Facebook. You may be able to find the same content in another format, or you may be able to find more information, on their website.
—