Forum Film Festival 2022 presents Indian documentary "Writing With Fire"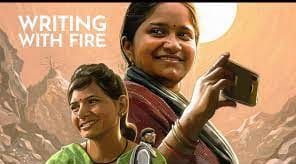 The Forum will screen the Oscar-nominated documentary film "Writing with Fire" at 7 p.m. Wednesday, May 11, at Prior-Jollek Hall, Antilles School Campus, St. Thomas.
In a cluttered male-dominated media landscape emerges India's only newspaper run by Dalit women. Chief Reporter Meera and her reporters are breaking tradition, redefining what it means to be powerful.
"The Dalits", who take center stage in this documentary film, are members of the lowest social group in the Hindu caste system. The word "Dalit" means "oppressed" or "broken" and is the name that the members of this group gave themselves in the 1930s.
The four main categories of castes are: Brahmins, Kshatriyas, Vaishyas and Shudras. Each category is determined by a specific profession. Fifth grade Dalits were not part of this caste system.
India is home to over 200 million Dalits, out of a population of 1.3 billion.
The Hindu caste system, in which identity and status are assigned at birth, dates back to an ancient Sanskrit text called "Manusmriti" (The Laws of Manu) and uses a doctrine of purity and pollution to classify people into four "varnas" or castes. .
"Writing with Fire" is a 2021 Indian documentary film directed by filmmakers Sushmit Ghosh and Rintu Thomas about the journalists who run the Dalit women-run newspaper Khabar Lahariya as they move from 14 years of print to digital journalism to using smartphones. It is the first Indian feature-length documentary to be nominated for an Academy Award for Best Documentary Feature.
Khabar Lahariya is run by Dalit women armed with smartphones. Chief Reporter Meera and her reporters break tradition and report on some of the country's toughest regions, whether on the front lines of India's biggest problems or within the confines of their homes, redefining what it means to be powerful.
Against the backdrop of an increasingly polarized world, "Writing with Fire" travels with Meera and her group of sisters – including her fiery understudy, crime reporter Suneeta – for five years. As they risk everything to speak truth to power, the film is a testament to their wit, intelligence and compassion in the face of the most pressing stories of our time.
Directed and Produced by: Rintu Thomas and Sushmit Ghosh Presented by Black Ticket Films ~ "The most inspiring journalism film – perhaps ever." The Washington Post~
"Rousing…Nothing Less Than Galvanizing" The New York Times Critics' Pick~
"Vital, stimulating" LA Times
The Forum Film Festival 2022 will take place on three Wednesdays: May 4, 11 and 18.
The court opens at 6:00 p.m. with small meals, wine, drinks and desserts from Amalia Café available for purchase.
The screening will begin at 7 p.m. Ticket prices:
Adults and teachers $10; Students $5
To buy a ticket: All ticket purchases must be made through the Forum's online portal or at the door.
Google online: The Forum – Promotix
Indoor masks required