The URSB Carteret Performing Arts & Events Center will present the benefit concert "Stand With Ukraine"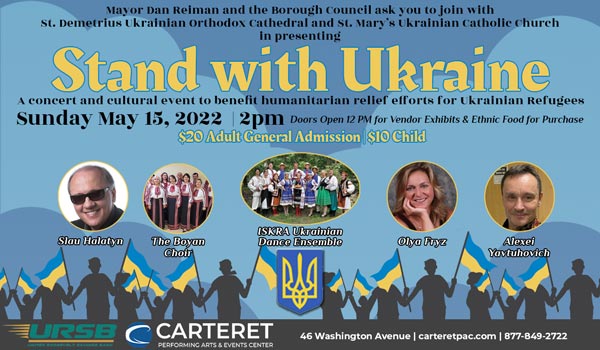 NEWS | FEATURES | PREVIEWS | EVENTS
originally published: 04/26/2022
(CARTERET, NJ) — Mayor Daniel J. Reiman announced that the Borough of Carteret will join St. Demetrius Ukrainian Orthodox Cathedral and St. Mary's Ukrainian Catholic Church on Sunday, May 15 beginning at 12:00 p.m. present 'Stand with Ukraine,' a concert and cultural event to benefit humanitarian relief efforts for Ukrainian refugees at the URSB Carteret Performing Arts & Events Center.
"Ukrainian Americans are a vital part of our community in Carteret and central Jersey, so seeing what is happening in Ukraine breaks our hearts," Mayor Dan Reiman said. "My office contacted the Ukrainian Embassy and local Ukrainian churches at the start of the Russian invasion and we worked together to coordinate this event. I am proud of Carteret who always come together for the benefit of those in need and I look forward to helping our brothers and sisters in Ukraine.
"Stand with Ukraine" will feature vendor displays and ethnic food for purchase, as well as live Ukrainian performers including Slau Halatyn, the Boyan Choir, ISKRA Ukraining Dance Ensemble, Olya Fryz and Alexei Yavtuhovich. All proceeds will be donated directly to humanitarian efforts that benefit Ukrainian refugees. For more information on the Stand with Ukraine fundraiser, visit CarteretPAC.com.
Slau Halatyn is a New York-based singer-songwriter, recording engineer and studio owner. His studio, BeSharp, specializes in Jazz and Musical Theater/Cabaret recordings. At an early age, Slau began performing with various bands across New York, eventually leading him to engagements as a session musician for radio, television, and film. Slau has been a regular contributor to the New York City Songwriters Circle at the Bitter End and has released two solo albums, "The Weight of Words" in 2001 and "Years Have Gone By" in 2021. Slau has also released several albums in Ukrainian. as one half of the hugely popular duo "Darka & Slawko" and won the Favorite International Group award at the Chervona Ruta Festival in Chernivtsi, Ukraine in 1989.
Alexei Yavtuhovich is a violinist born in Belarus. He received a master's degree in violin performance from the Belarusian Academy of Music in Minsk, Belarus. He has performed internationally in Ukraine, Russia, Germany, France, the Netherlands, Norway and Spain as a member of the Belarus State Concert Orchestra, the prestigious Belarus State Chamber Orchestra and Belarus String Quartet. Alexei emigrated to the United States in 1996 and restarted his artistic career in 2015. In 2018, Alexei founded Collegium Musicum NJ, a music society offering a series of professional music concerts, educational and community programs, master's classes and pre-concert lectures and discussions. Alexei is currently president and artistic director of the organization. Collegium Musicum NJ, in collaboration with Rotary Club SASY and "Rise and Share Middlesex", recently created a project organizing music events to raise funds to purchase and ship medical supplies and equipment to Ukraine.
Advertise with New Jersey Stage for $50-$100 per month, click here for more info
---
Boyan Choir of the Ukrainian Catholic Church of the Assumption of the BVM, Perth Amboy, NJ, under the artistic direction of Alla Korostil, has been performing throughout the metro area for many years. In 2019 they released their first CD of Ukrainian Christmas carols. They participated in several fundraising events in solidarity with Ukraine.
Iskra Ukrainian Dance Ensemble, based in Whippany, NJ, was founded in 2011 as part of the Iskra Ukrainian Dance Academy, one of the schools of the late Roma Pryma Bohachevsky. Under the artistic direction of Andrij Cybyk, Iskra depicts many regions of Ukraine, showcasing the colorful indigenous costumes, individual musical styles and, of course, the particular dance moves found in each. A performance by Ensemble Iskra is always an event filled with beauty, humor and excitement!
Olya Fryz has entertained Ukrainians around the world with his music for over 25 years. This multi-talented singer and accomplished bandura instrumentalist has performed across the United States and Canada at numerous festivals, interactive children's shows, and concerts. In addition to her solo music career, Olya is a member of North America's newest Ukrainian women's band Bandura. Growing up in New York and performing for many years in the tri-state area, Olya is honored to be a part of fundraising efforts for Ukraine and to share her love of Ukrainian music with you.
The Performing Arts and Events Center of URSB Carteret is located at 46 Washington Avenue in Carteret, New Jersey.