Two climbing documentaries in one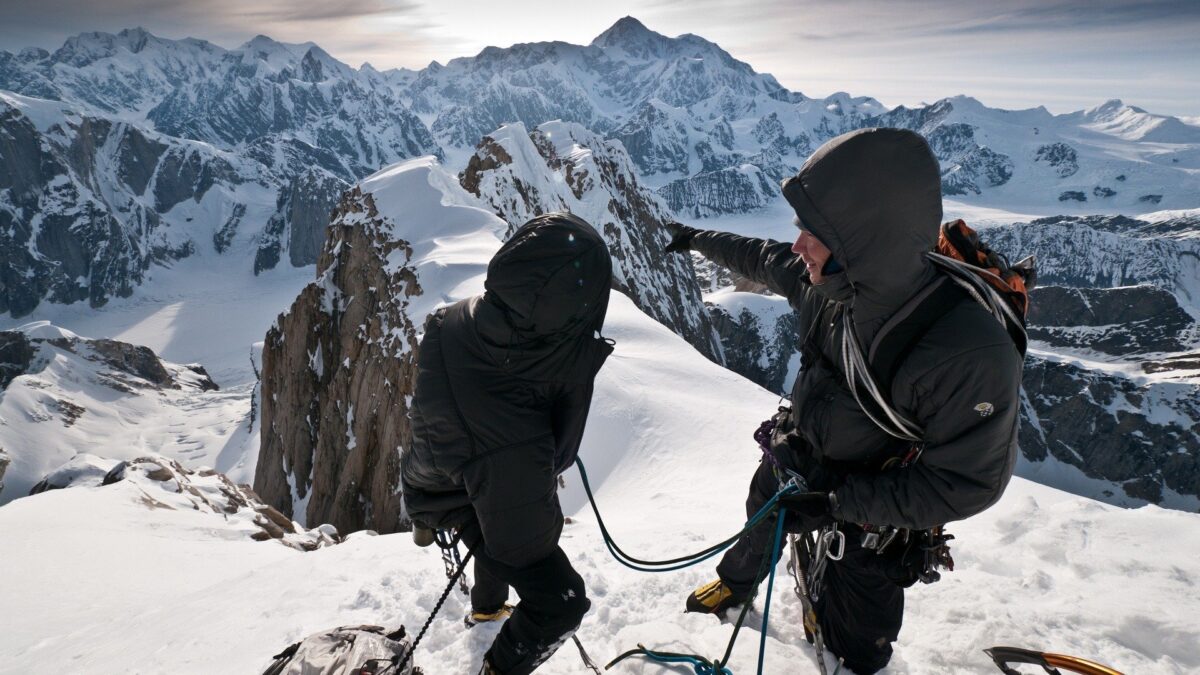 Mountaineers ascend mountains, ascend peaks, and rappel back down. When all the peaks in a particular area have been bagged, climbers sometimes ascend sideways. They chain a logical group of peaks together and complete a massive, endurance-demanding traverse, which, like everything in the mountaineering game, can include avalanches, frostbite, gruesome (but arrested) drops, dangerously abraded ropes, deadly rock falls, ice from axes rolling into the abyss, cerebral and pulmonary edema and death.
But sometimes, in their lifetime, they manage to touch the face of God. This is the source of the intense addiction to climbing and flying; mountaineers and aviators share a respect for the sanctity of space, a phrase that comes from John Gillespie Magee's famous poem "High Flight". It is invariably read at the funerals of military airmen who have died in the line of duty. It is a beautiful and powerful poem. I include it at the end.
"The Sanctity of Space" is a sometimes gripping documentary by climber and filmmaker Renan Ozturk, whom I have already spoken about when he was part of the team that scaled the impossible Himalayan Shark's Fin, in "Meru" by climber and filmmaker Jimmy Chin.
What are we going to climb?
Climbing trio Renan Ozturk, Freddie Wilkinson and Zack Smith take a look at some of the haunting aerial images of legendary rugged 80-year-old mountain photographer Brad Washburn in black and white. A daunting, snowy path, shrouded and darkened in mystery, calls out their names.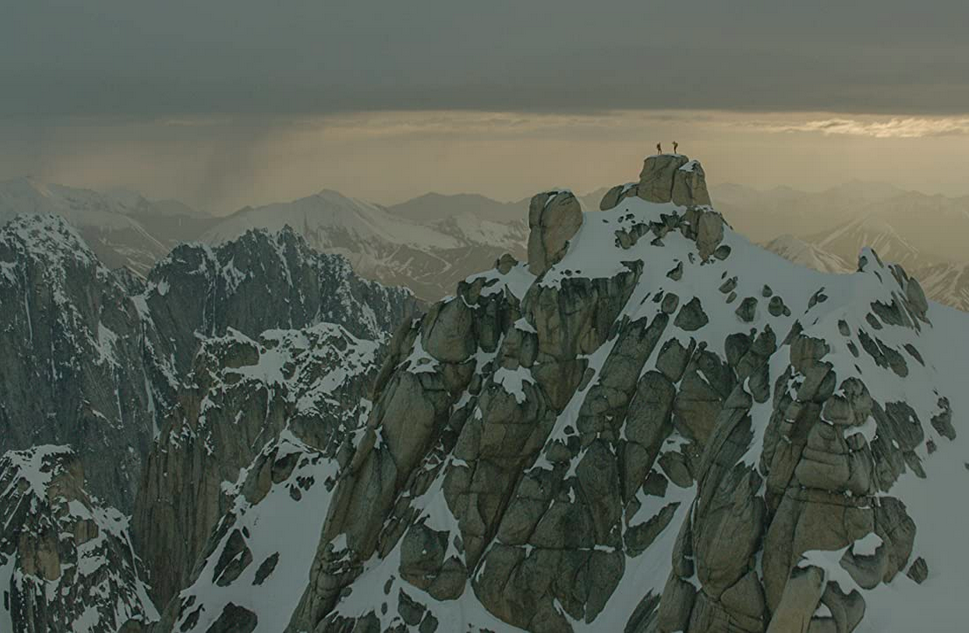 The colossal Moose's Tooth Massif mountain range rises from the bridge like a giant jawbone on the east side of Ruth's Gorge in Alaska's Central Range, 15 miles southeast of Denali (formerly known as Mt. McKinley). It features a series of picks aptly named Moose's Tooth, Eye Tooth, Bear Tooth, Sugar Tooth, and Broken Tooth.
Although not particularly high (compared to the Himalayas), these climbs are nevertheless dangerous, and although all the peaks had been individually bagged, they had not yet been conquered collectively and laterally. This traverse of the most intimidating peaks of the Moose's Tooth massif required two extremely dangerous expeditions. It's basically a breathtaking high-altitude hike that traverses a winding, dizzying wave of frozen snow that can crumble, disintegrate, and knock climbers to their deaths in the blink of an eye.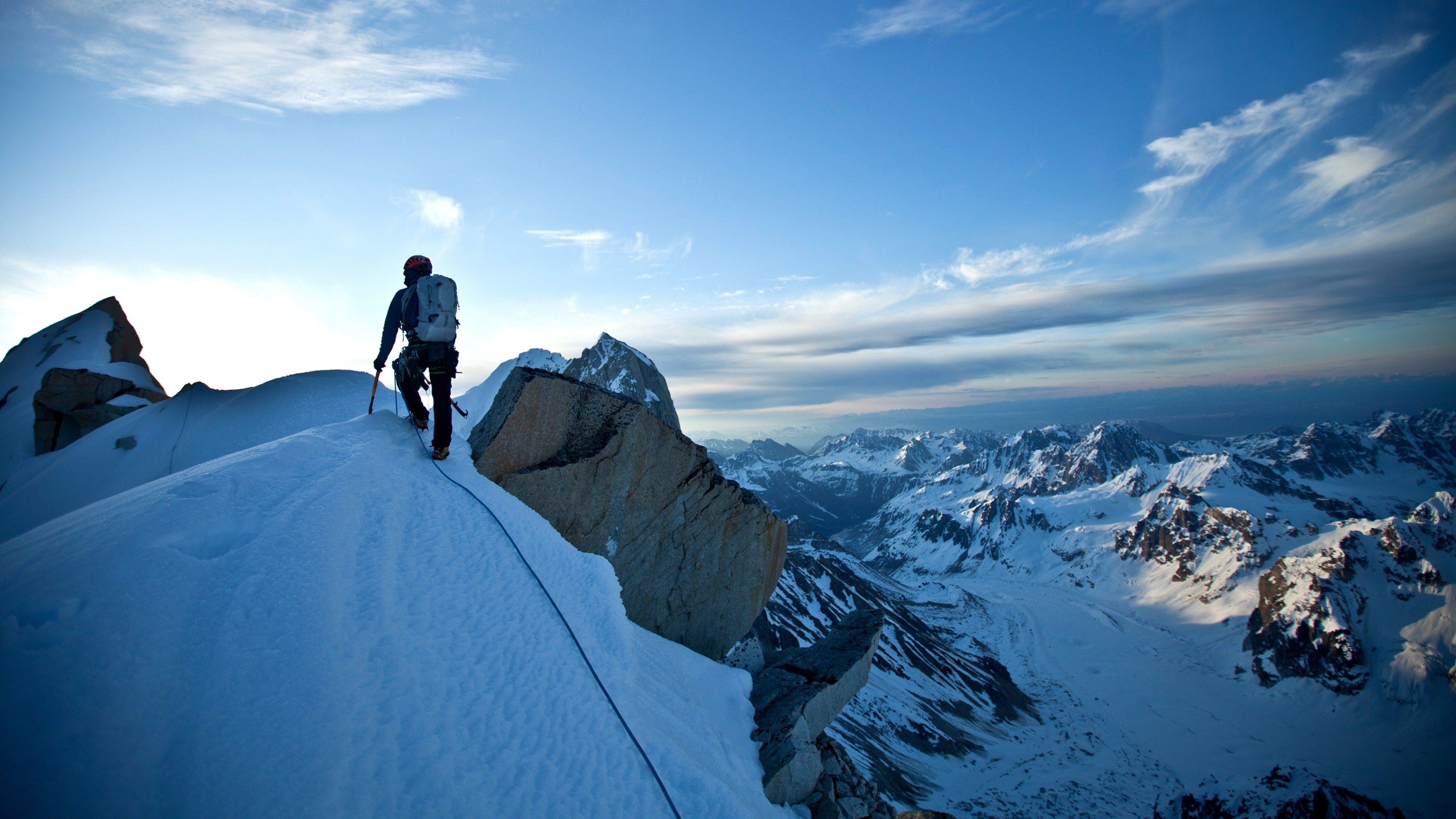 The climbing is amazing; the film is a bit amateurish. But like some of the risky, crumbling rocks they had to climb, I want to tread lightly, as climbing this route was a major feat; carrying several pounds of extra filming equipment and simultaneously shooting a movie is a next-level effort that really needs its own Oscar category. If there was such a category, Jimmy Chin's aforementioned "Meru" would have won the Oscars, the same way his best-known work, "Free Solo," did.
In fact, it's two documentaries in one
"The Sanctity of Space" is actually two documentaries woven together. The first is the actual climb; the second chronicles the life and times of famed photographer and cartographer Bradford Washburn, who was also a mountaineer and explorer.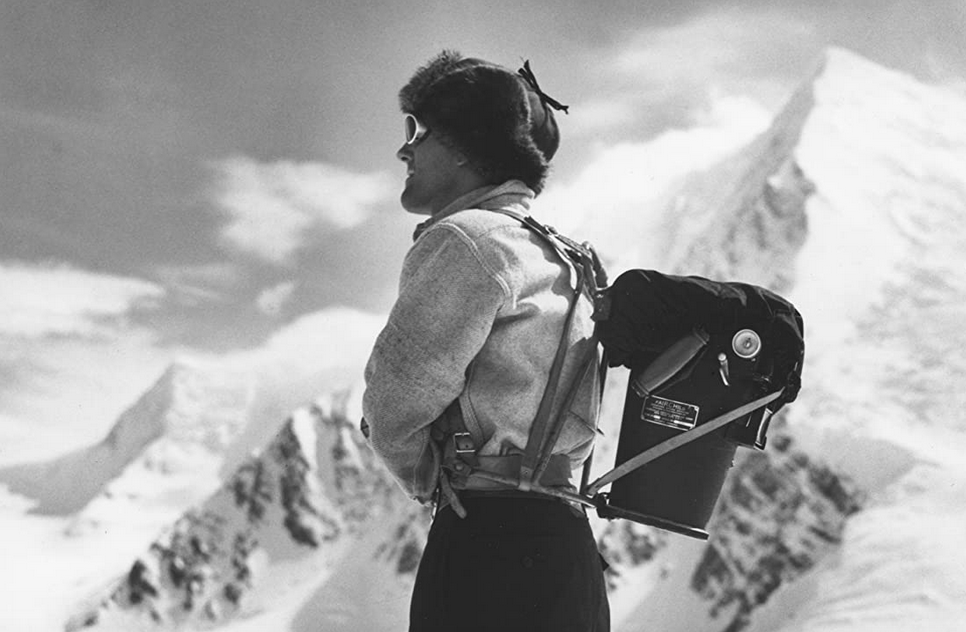 Washburn's recurring account essentially walks us through this native son of Massachusetts heritage, describing how he pioneered the use of aerial photography in cartography and crafted superbly detailed maps of regions previously overlooked by the geographers. He understands the story of how his ignored advice to Amelia Earhart directly led to her death; his approximately four-decade residency as director of the Boston Science Museum; one of his grueling, near-death expeditions; and his lovely lifelong partnership with his charming, playful, pragmatic, nurturing, self-deprecating wife. The climbing story is successful, but Washburn's portrayal needed its own treatment, more exhaustive, engaging (and more interesting), and serves more as a distraction throughout.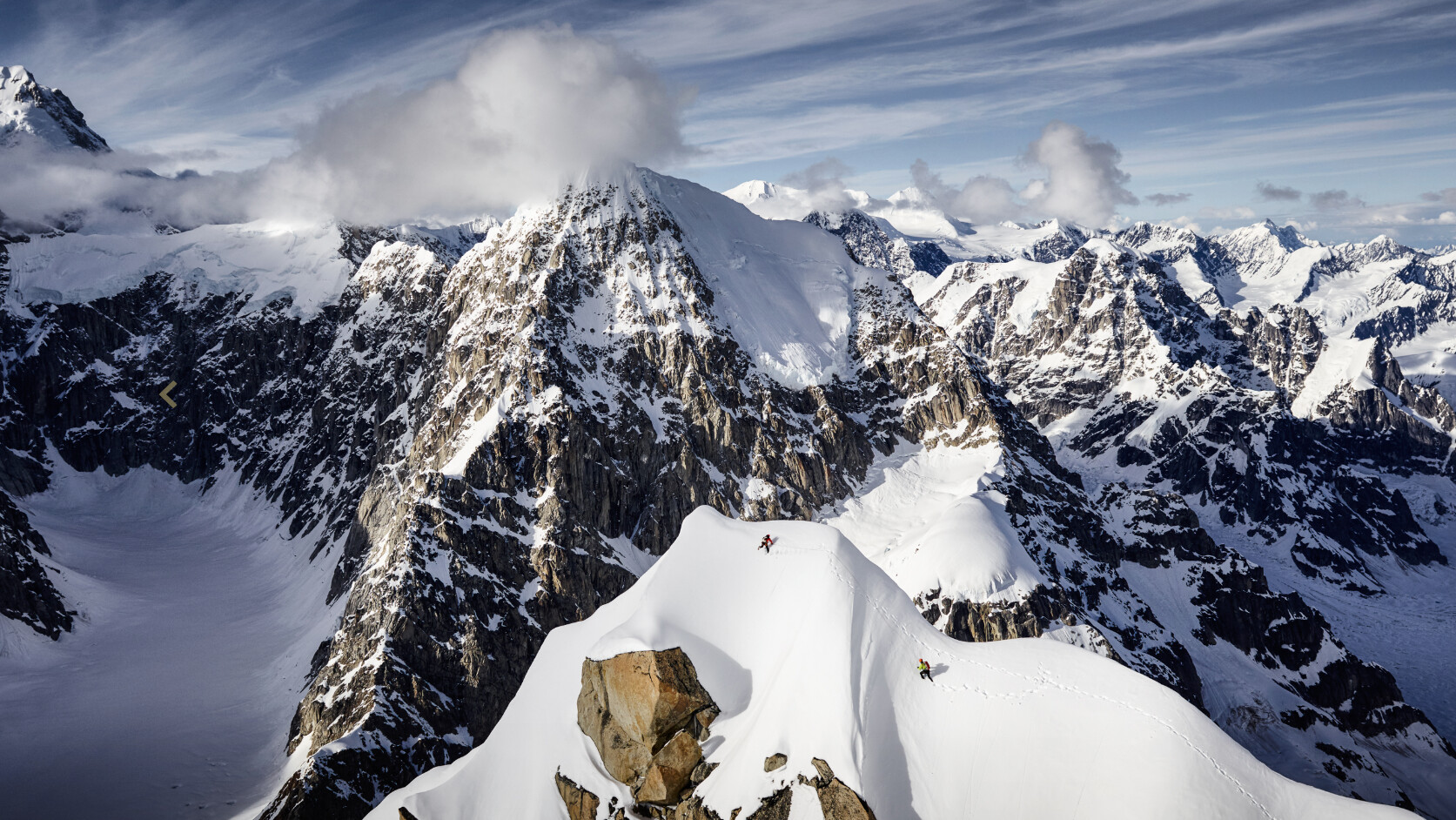 The main course
The history of climbing, which took place approximately between 2007 and 2013, concerns the three central climbers. He documents the deaths of other climbers; Ozturk's daredevil skiing accident and his decision to abandon the Moose's Tooth project and climb the Shark's Fin before returning to complete the Tooth Traverse (also chronicled in Jimmy Chin's "Meru").
This storyline also includes the financial struggles of non-pro Zack Smith (non-pro only in regards to the fact that he has no sponsor and navigates all the necessities of the modern professional climbing career , i.e. social media, non-stop photo-documentation, marketable shipping film, etc.
"The Sanctity of Space" is about the searing commitment and unwavering resilience this lifestyle demands, as well as the harrowing possibility of being dumped by terrified girlfriends. The best fiction films give us a construction of the world and places we have never seen or imagined before, but mountaineering documentaries also transport us to otherworldly existences, amid perilous avalanches and of hypothermia.
Experiencing the vicarious excitement and childlike wonder of world-class expedition mountaineers via these risk-taking high-altitude images, not to mention the jaw-dropping views, can certainly rival fantasy worlds. imagined by the writers. Being able to witness the icy otherworld of Alaska, without having to risk your life and physical integrity, is a treat.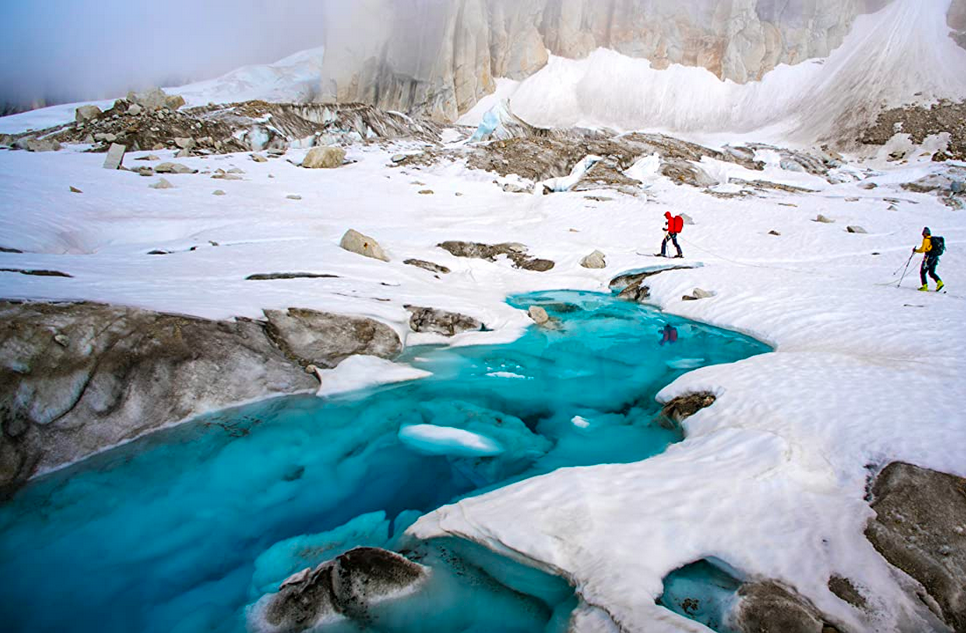 "High Flight"
"Oh! I slipped the surly bonds of the Earth
And danced the skies on silvery wings of laughter;
Towards the sun I climbed and joined the tumultuous joy
Of clouds split by the sun, – and does a hundred things
You didn't dream – rolled and hovered and swayed
High in sunny silence. Hov'ring there,
I chased the howling wind and launched
My passionate craft through footless halls of air…
Up, up the long delirious burning blue
I overcame the windswept heights with easy grace
Where ever lark, or ever eagle flew –
And as with a silent inspiring spirit I walked
The high inviolability of space,
I reached out and touched the face of God.
John Gillespie Magee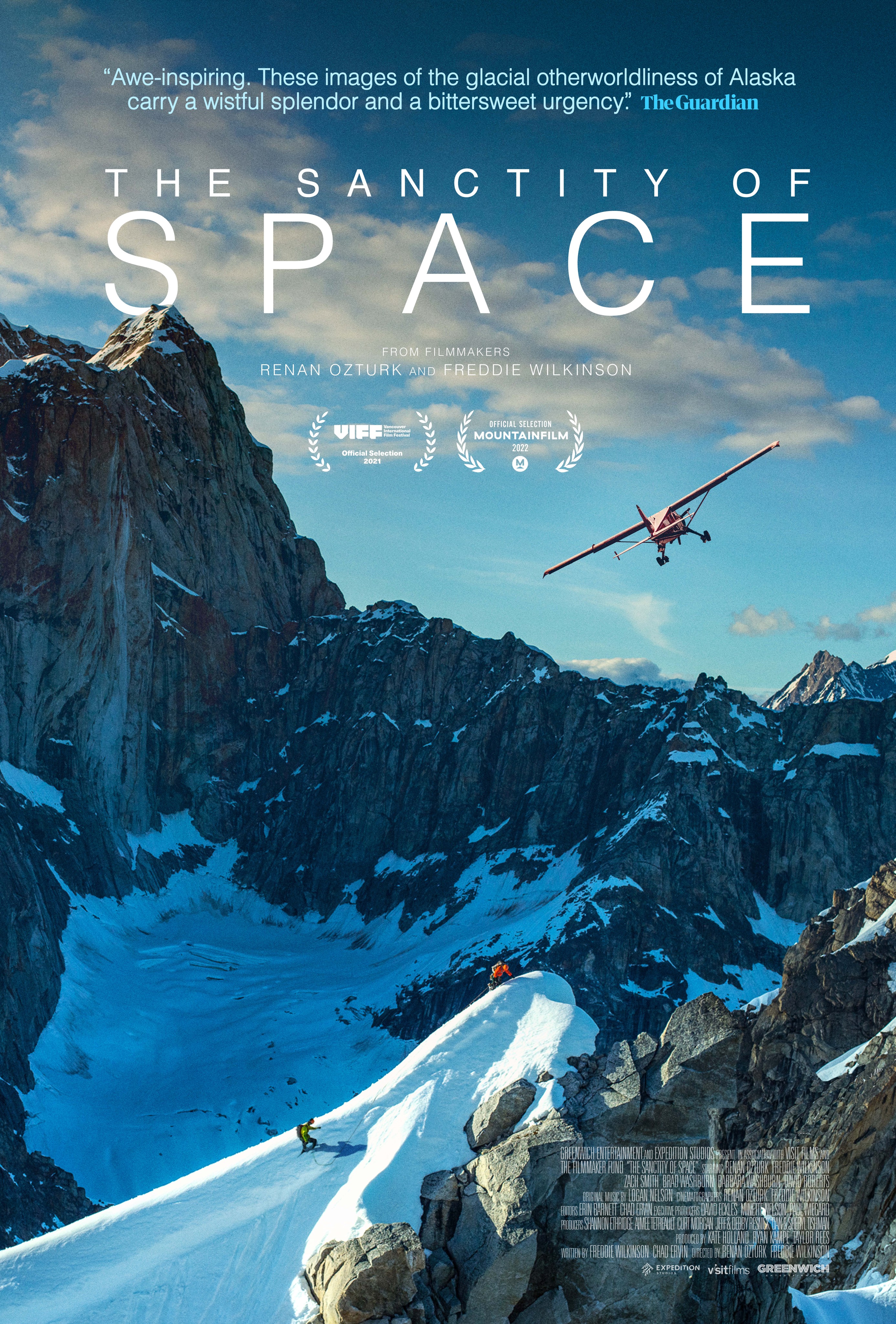 "The Sacredness of Space"
Documentary
Directors: Renan Ozturk, Freddie Wilkinson
With: Renan Ozturk, Freddie Wilkinson, Zack Smith
Duration: 1 hour 41 minutes
Release date: May 31, 2022
Rating: 3 out of 5 stars